BY JENNIFER DANE CLEMENTS
the needle/work variations
drawn from the stitchings of Nelly Custis Lewis

Note: These are currently displayed as a part of an exhibition at the Woodlawn Mansion in Virginia (also known as the house George Washington gifted his granddaughter). The show runs through march 31.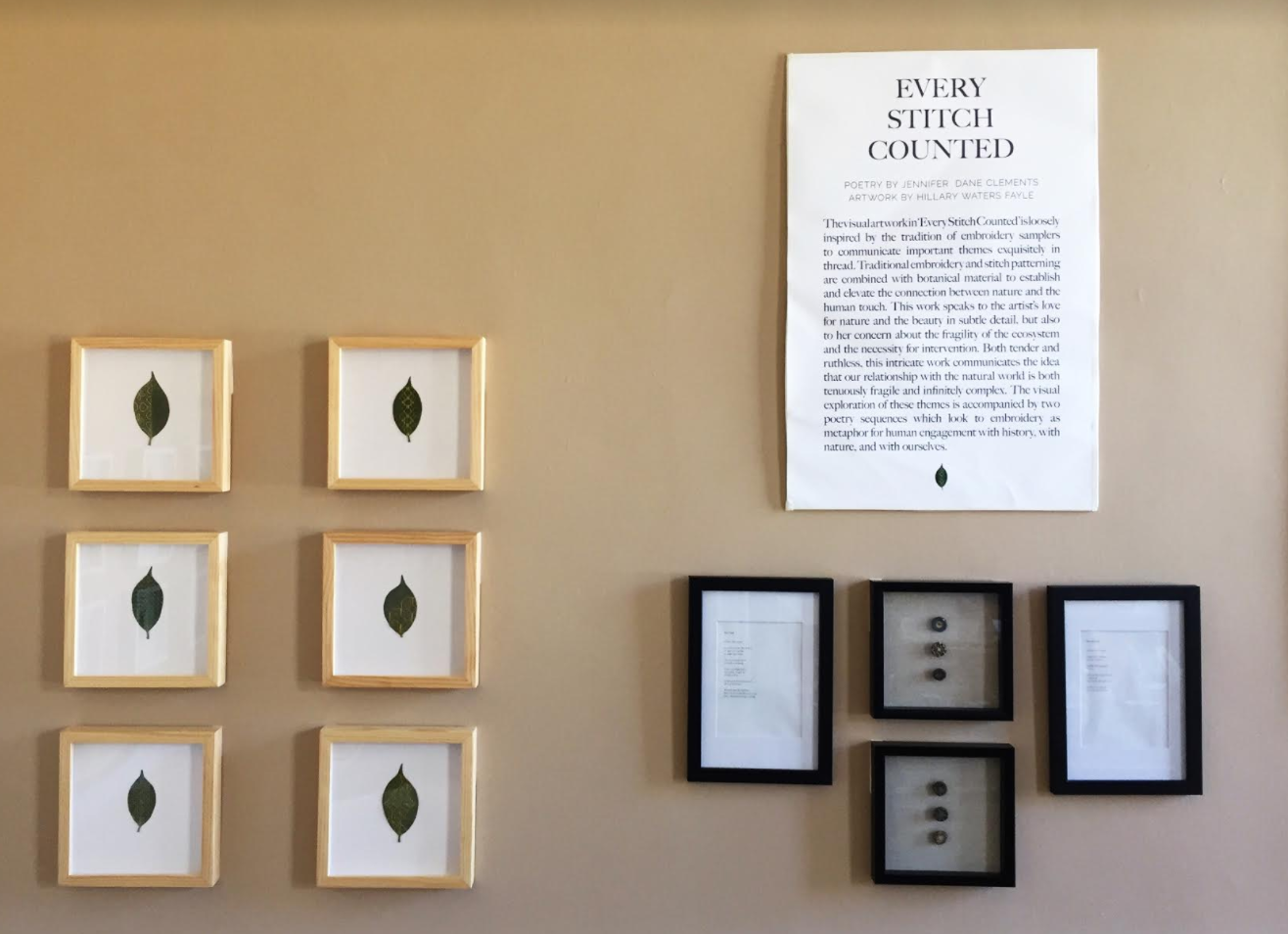 Variation I
every stitch
counted

woven histories
like petticoat folds
beneath your muslin gown
we are meant
for making.
spill your words.
a sampler
a grammar
a craftsmanship of letters
cousin to
embroidery or filigree
or plainwork or painting.

is it a feminine trait
to absorb and reshape,
to ornament the world
not in beauty but in meaning
and constraint

to dispatch parts of self
enveloped
to others

and like colonial children
three of every seven
fail to thrive
we do this for those
that may endure.
 
Variation II
every stitch
shall be counted.
so obsess.
it is a woman's work
arranging like daffodils or constellations
filaceous shade and shadow

what forms a thread but fiber and care
what forms a fiber but proof of life:
a cotton bud, a lamb's mottled fleece
or wormspun silk
or you.
so embroider.
it is a woman's work
to layer new life upon the old,
a woman's body constructed
for its own remaking.
everything cloaks its meaning
in something else
(we call this beauty
or symbol
or preservation)

and what forms a word
but a thread spun of letters
what forms a letter
but proof of a hand
are these words threads
or are these threads words
pigmented
pin-pricked
I have remade
and sent myself to you.
look now, Elizabeth:
your fingertips
smeared thick with
ink and blood.
 
Variation III
every stitch
counted

thread-made things
in female-governed spaces:
harpsichord, piano
bracelets beaded in seed-small glass.
these hands
intractable makers
conductors of string.
look:
a firescreen.
its basket of flowers
tactile and scentless
save the memory of berries
bacciferous pigment dreams,
stitches the age of a nation.
it was blue once
the way a song tethers memory
the thread's song is blue

yellows deepened to ochre
whites dusted to gray
still blue is most willing to fade

as though a lesson
on age, or sunlight

each thread traces a different path
counting only its own rows
they may take years to complete.

I have stitched without planning
it has landed me here
yet always there is a design.

thread will not ask its reason
its pattern
but like a good skeptic
I do.
 
Variation IV
every stitch
counted
we have worked by candlelight
for hours now
or do I mean days,
or do I mean decades
let us not suggest the process is delicate
a pierce repeated
through and through
tell me where creation occurs
without rupture
I dare you.
thimbles and revolution
obsessions of different scale
the fall and the falciform
the carmine of cochineal
your dye a siren acid.

let us not suppose women are delicate
a puncture repeated
through and through.
tell me where creation occurs
without rupture
even counted, even planned.
let us not suppose we do this
only to pass the hours

I am this thread
and tapestry needle

the wounded fabric

the loveliest
and most colorful
carnations and daffodils
tattooed on me
as on canvas.
Jennifer Dane Clements is a writer and editor based in Washington, DC. Her work has been featured in publications including Barrelhouse, Hippocampus, WordRiot, Psychopomp, and The Intentional. She holds an MFA in creative writing from George Mason University, and is currently working on a collection of creative nonfiction. Jennifer has received fellowships from the Fulbright Commission and the DC Commission on the Arts and Humanities, as well as nominations for the Pushcart Prize, the Larry Neal Writer's Award, and the Best of the Net Award, among other honors. She serves as a judge for the Helen Hayes Awards and volunteers as a teaching artist at the Sitar Arts Center.