BY TRISTA EDWARDS
I spent this past weekend camping at the largest Renaissance festival in the country located in Todd Mission, Texas. It felt strange to go but not because Renaissance fairs are unfamiliar to me (I've been to several) but because it felt odd to go indulge in a weekend of fantasy when the country was on fire.
The trip was pre-planned, pre-election as part of a little getaway following the few weeks after my husband's wedding and mine. In two weeks time, I experienced some of my highest highs and then some of the lowest lows I had felt in some time. Like so many, I have been a mixture of grief-stricken and anger filled following November 8th; but as it turns out, a brief weekend being surrounded by a little Renaissance magic and the inclusivity and championing of diverse bodies was a reminder of a very felt love for that which is different.
If you have never been to a renaissance festival (there is one in just about every state), the underlying foundation is magic. Ceremonial and hermeneutic magic experienced resurgence in the Middle Ages. Both nobility and the bourgeois turned to and were fascinated by Renaissance occultism as a result of intellectual and spiritual tensions in the wake of the Early Modern witch-hunt and the Reformation. The magic one can experience at a Renaissance festival is both borrowing from past occult traditions while also allowing for fantasy.
These festivals generally have a revolving door of themes that change from weekend to weekend throughout the season—Oktoberfest, 1001 Dreams, Pirate Adventure, All Hallow's Eve, Roman Bacchanal, Celtic Christmas, Highland Fling, etc.—in addition to the ever-present Renaissance realm that exists as the permanent backdrop.
These amusement park-like festivals exist out of appreciation for the occult. They are created worlds in which pagan rituals, mysticism, divination, and esotericism is celebrated through the real and the make-believe. Booths and stages for makers, artists, writers, and performers are set up form them to display and sell their niche craft…a majority of these creators travelling from fair to fair to make a living. There are tarot readers, herbalists, and practitioners of tasseography who can flourish in their art. There are magicians, fire breathers, jugglers, street performers, dancers, actors, and poets who can all find a platform for what can often feel like a peripheral occupation.
RELATED: A Short Guide To Defensive And Protective Magic
What struck me the most about the weekend, however, was the celebration of the body, the proud display of difference between us enabled through the power of costume and the momentary belief in this fantasy world. People want to be on display, they want to show off their attire, the care they took in adorning their bodies with costume, often revealing as much of their bodies as they can. The fair becomes a space in which one can feel safe to share their themselves in ways that may not be appreciated or accepted in the "real world" or it can become a space in which who they are in the "real world" is celebrated without opposition.
RELATED: On Embodiment, Body Shame & Feminism
Pregnant women display their naked bellies all painted and bejeweled. Rainbow flags drape shoulders la a cape style. Bodies of all shapes, sizes, and color were met with praise and admiration. Wheelchairs, walkers, canes, and prosthetics are decorated to become chariots, ships, scepters, and other forms of magical and fantastical apparatus. The feminine is championed even when it is being hyperbolized in the bawdiest of attires. Even costumed, hyperbolized masculinity pushes against the boundaries of what is socially "acceptable." I saw a man, clad in barely anything more than a loincloth, playing at barbarian. I couldn't help but consider that perhaps as this tall, Adonis-like man stomped through the weekend pretending to be some über-alpha with his scantily clad costume, wig, accessories, and affected faux accent that this very act of "play-pretend" and fantasy could be deemed the very opposite what "men are supposed to do." Perhaps when he's at home in the "real world," at the office, the construction site, the halls of academia…that is when he plays at "being a man;" but here among fairies, witches, warlocks, and ogres is when he truly drops the mask and feels safe giving himself over to a magical world where we can shed the constraints.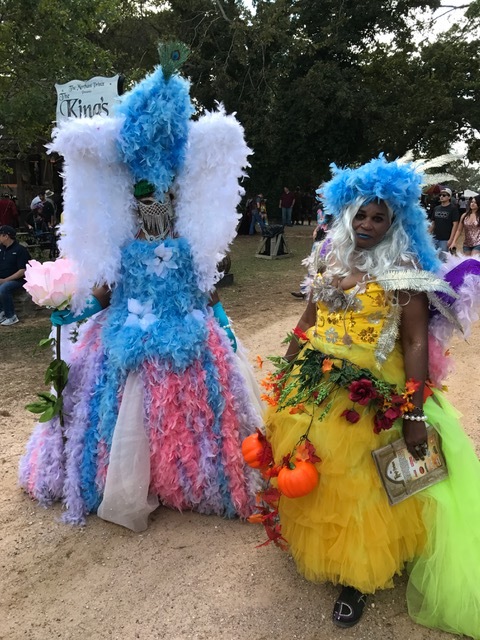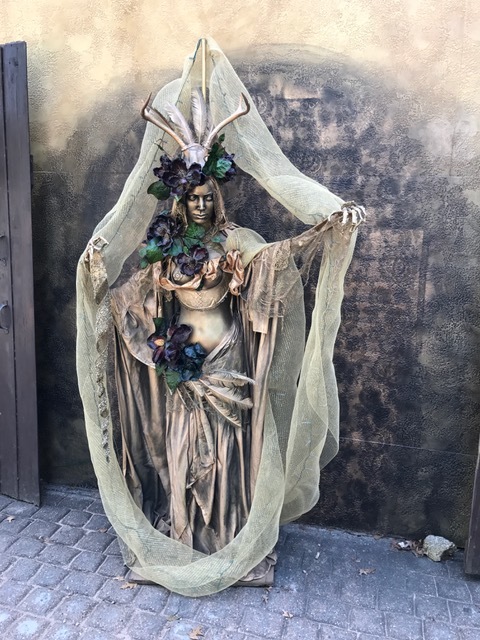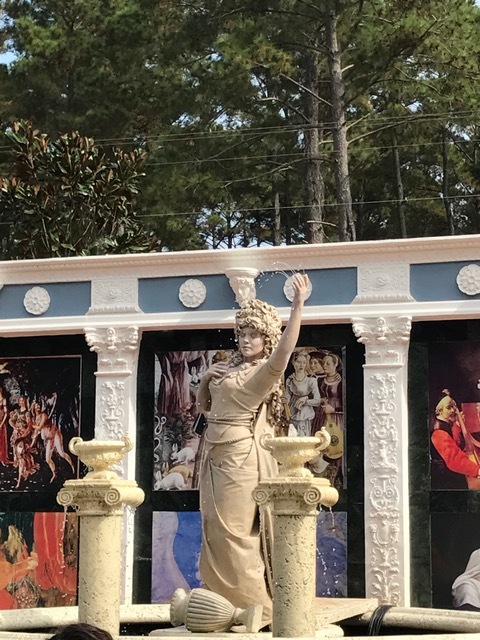 I too, with decades' worth of insecurity over my feminine body, donned a cape and staff and felt a power within myself—that my body commanded, that my body was powerful, that my body was beautiful. Sometimes we need a little make believe to remind us what's real.